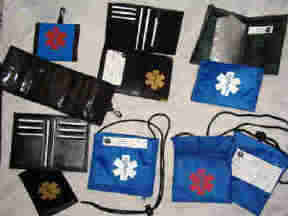 Medical Alert Wallets has a Blog site too, at our Blog we have news releases, articles, and about being mentioned on the Today Show. We will update our blog as more news is announced.
To view these articles please visit our Blog, just click on the link below, Thank you.
http://blog.MedicalAlertWallets.com
On some more news, we have some new leather Medical Wallets with a Medical symbol debossed natural on the outside, a bi-fold leather wallet with a flip up ID, a tri-fold leather wallet. We also have the above two wallets with the Medical symbol debossed and gold colored filled, The bi-fold leather wallet flip up ID with debossed gold colored Medical symbol and the tri-fold leather wallet with debossed gold colored Medical symbol. Besides those new wallets we have a few more, one is similar to our Small Hipster Max Medical Wallet style, but thinner, this wallet is our credit card ID wallet, you can also choose from a variety of other styles of leather Medical Wallets including 3 different Checkbook Medical Wallets, 2 Hipster style leather Medical Wallets, many bi-fold and tri-fold Medical wallets and a leather pouch. Check out these new leather wallets on our Leather Wallets page.
You have a choice of many different colors and styles. Enjoy!
"Get a Safe and Secure feeling with a Medical Wallet on you"