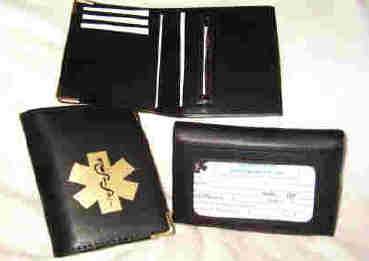 The Medical Alert Wallets, 'Street Smart' Vinyl bi-fold Wallet is a very comfortable Medical wallet and is made of durable cowhide textured black vinyl. This Street Smart Medical ID wallet features 2 gold color metal corners complimenting the Gold color Medical symbol Hot Stamped outside and a clear ID window, perfect for your ID card, bus pass or the Medical Information Card, for you to fill out.
Inside this Street Smart vinyl bi-fold Medical wallet are 3 credit card slots on the left side, 1 secure zipper pocket for your coins and/or an emergency key on the right side and 2 edge stitched pockets, 1 on each side. That's it, simple, small, thin and good looking!
Size, 4 1/8"H x 3"W closed. One color; Black
If you don't want to use the PayPal's secure online payment process. please click here.
Shipping outside the United States see policy and terms
You have a better chance of correct medical aid with the information you print on the Medical Information Card If you have any allergies, medical conditions and take medicines then you need a medical symbol somewhere.