The

Medical Alert Wallets,
Medical Information

Card is a must for anyone who has any medical conditions, take medicines and/or allergic to anything, especially to a

medicine

.
Medical Alert Wallets has 2 sizes of Medical Information Cards
Credit Card size 3 3/8" W by 2 1/8" H price $0.24 each

Neck Wallet size 3 1/2" W by 3 3/4" H price $0.39 each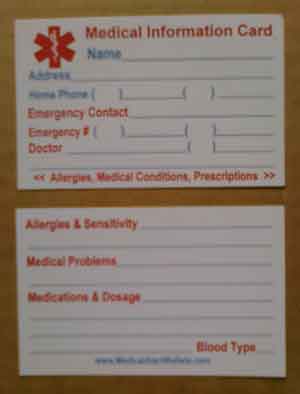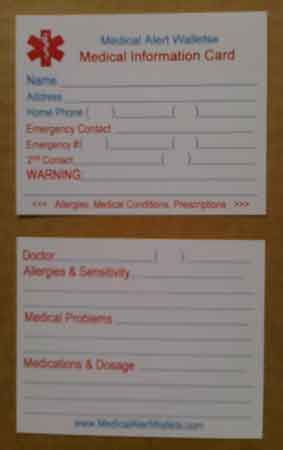 Credit Card size Neck Wallet size
Charities, Businesses and Groups needing large quantities, please Contact Us for price and availability.
It is Very important for you, your loved ones and any one you know with health problem at least have a Medical Information Card on them, next to your identification.
The Medical Information ID Card has spaces for your name, your emergency contact names and phone numbers, your doctors name and number. Most important is the areas for medical conditions, allergies and reactions, then a place to list all your medicines and dosage. We suggest you list your medicines in pencil as your conditions improve and your medication change.
Each 'Medical Alert Wallet' includes a Medical Information Card. We usually send 3 in each wallet.
Even if you are not buying a wallet right now at least get yourself a Medical Information Card at no charge by sending us a self addressed stamped envelope, to our address;
Medical Alert Wallets
4716 W 167th Strreet, Lawndale, CA. 90260
Medical Alert Wallets puts 2 Medical Information Cards in each self addressed stamped envelope, unless you request different, you can get up to 4 in one envelope. Plus we put a flyer of our wallets in your self addressed envelope too.
"Feel Safe and Secure with Medical Alert Wallets"