Here are the Categories at Medical Alert Wallets.
If you can't find what you are looking for, please try the links in the left column.

Leather Medical Wallets
The genuine leather bi-fold and tri-fold wallets have a medical symbol on the outside. Some leather wallets the medical symbol is debossed natural, some are debossed and gold colored filled on the outside.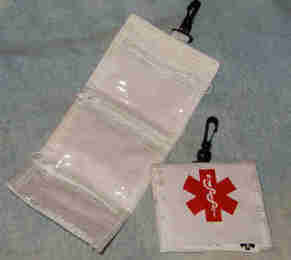 Medicine Medical Wallet
Great to carry important medications, a must for the traveler who doesn't want to be bother with those bulky pill bottles. Also great for people who need their medicines with them daily. The tri-fold medicine wallet comes with a handy clip to easily take with you.


Neck Medical Wallets
A variety of styles and colors for you to choose from. All are great to carry important medications and they all have the large Medical Information Card, which compliments the Neck wallets. A variety of wallets to choose from.


Nylon Medical Wallets
We have a variety of nylon wallets with your choice of style and color. Besides the Nylon 'Sports' wallet and the Nylon wallet with black trim, you'll also find the tri-fold medicine wallet and all the neck wallets on this page.

Vinyl Medical Wallet
Not only do we have a vinyl bi-fold wallet, but we also have a nylon wallet that has a vinyl burgundy panel inside called the Travel Lite wallet. Check them out! All Medical Alert Wallets come with a Medical Information Card.

Medical Information Card
Medical Alert Wallets includes 2 Medical Information Cards, for you to fill out. Even if you don't buy anything today at least send away for a Medical Information Card, see how on the Contact Us page.
"Feel Safe and Secure with Medical Alert Wallet"
If for some reason you don't want to use PayPal secure online payment process at Medical Alert Wallets, please go to our print order form page by clicking here. Thank you