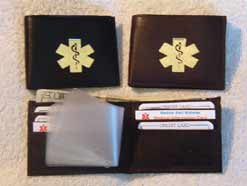 The Medical Alert Wallets Slimfold leather billfold wallet should be named the 'econo wallet' because of the great bargain price. This Slimfold bi-fold wallet is made from genuine leather. The Medical symbol is gold colored on the outside.
Inside these Slimfold bi-fold leather billfold wallets are 6 clear card slots, 6 leather card slots, 2 pockets, one on each side under the leather card slots, 2 full length currency holders, one with another zippered compartment making a total of 3 currency holders, 1 hide a key holder and a Medical Information Card you fill out.
Price; $13.65
Size; 4 1/2" wide by 3 1/4" high
by 3/4" thick closed, 8 1/2 " wide by 3 1/4" high when opened.
Your choice of 2 colors; Black or Dark Brown
If you don't want to use the PayPal's secure online payment process, please click here,
Shipping outside the United States see policy and terms
You have a better chance of correct medical aid with a Medical symbol and the health information on the Medical Information Card . If you have any allergies, medical conditions and take medicines, then you should have a Medical symbol on you somewhere. So in case of an emergency you'll be ready.
"Feel Safe and Secure with Medical Alert Wallets"