with removable cord, forest green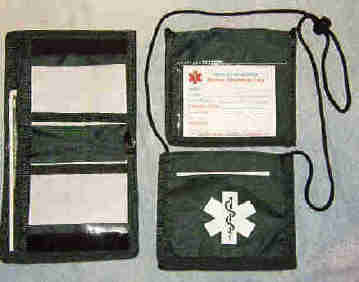 The forest green nylon Bi-fold Neck Medical Wallet with removable cord can be used as a mini purse or remove the large neck cord and use it as a pocket Medical wallet.
Outside this Bi-fold nylon Neck Medical Wallet is a 36" adjustable and removable neck cord. Then on one side is a nylon fabric pocket with the Medical symbol silk screened in white above and on the opposite side is a clear window pocket, perfect for the Medical Information Card, for you to fill out.
Open this Medical Alert Wallets, Bi-fold Neck Medical Wallet to the inside where there are 2 large clear window pockets and a large full length zippered currency holder, large enough to carry daily medicines, lipstick, etc., besides money.
Price: $8.95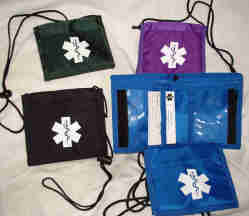 Comes in 5 colors; forest green, black, purple, red and royal blue
Size 4.5" tall x 5" wide closed and 5" tall x 9" wide when opened.
If for some reason you don't want to use the PayPal secure online payment process please click here.
Shipping outside the United States and Canada require different shipping and handling charges, Please see Medical Alert Wallets policy and terms page for international shipping charges.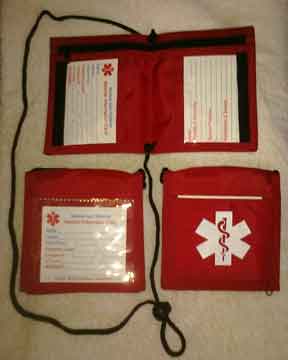 You have a better chance of correct medical aid and early diagnose with the help of the Medical symbol and your current health information you've printed on the Medical Information Card in your new Medical Wallet.
If you have allergies, medical conditions and/or take medicines then you should have a Medical symbol somewhere on you and what a better way then on your wallet which has a Medical Information Card filled out. No matter how active you are or if you are in Rehab/Physical Therapy or most important if allergic, especially to a specific drug, then you need a Medical symbol and card on you somewhere.
"Feel Safe and Secure with Medical Wallets"