gold colored Medical symbol & 2 clear Ext ID's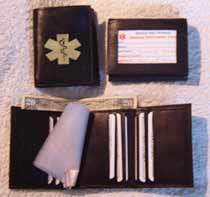 The Medical Alert Wallets, 'Exterior ID Tri-fold leather Medical wallet' has a gold colored medical symbol and 2 clear ID windows on the outside. This Exterior ID Tri-fold Medical wallet is made from genuine black and dark brown leather.
Inside these Exterior ID Tri-fold leather wallets are 6 clear plastic card slots, 6 leather credit card slots, 3 pockets one under each fold and 2 full length currency holders.
Includes a Medical Information Card, for you to fill out with your current medical information.
Price; $14.65
Size; 3 3/8" wide by 4" high by 3/4" thick closed, 9" wide by 4" high opened
Your choice of 2 colors; Black or Dark Brown
If for some reason you don't want to use PayPal secure online payment, please click here.
Shipping outside the United States and Canada require different shipping and handling charges, Please see Medical Alert Wallets policy and terms page for international shipping charges.
You have a better chance of correct medical aid and early diagnose with the help of the Medical symbol and your current health information you've printed on the Medical Information Card in your new Medical Wallet.
If you have any allergies, medical conditions and/or take medicines, especially to drugs, then you should have a Medical symbol on you somewhere and what a better way then on your wallet. So in case of an emergency or not, you'll be ready. So Feel Safe and Secure with a Medical Wallet on you!
"Feel Safe and Secure with Medical Wallets"