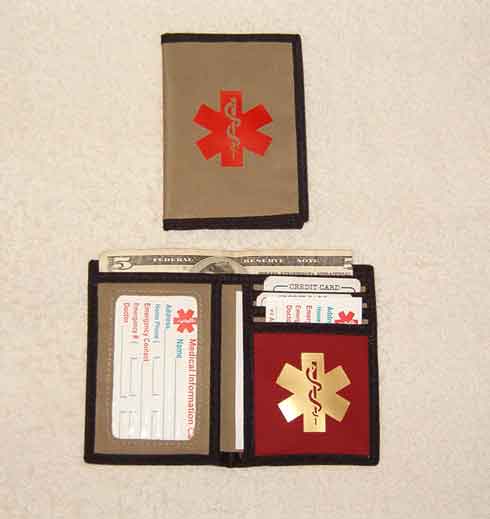 The Travel Lite Medical nylon wallet has a sporty, lightweight design constructed of Khaki Micro fiber nylon and finish with edge-stitched piping makes a sturdy exterior with a red Medical symbol.
Inside this Travel Lite Medical wallet the edge-stitched piping continues its sturdy construction with an attractive accent panel made of suede Burgundy vinyl where another Medical symbol is gold color hot stamp above.
Features 3 credit card slots on the right, 1 small currency holder (see the $5 folded a little on the right) and 2 pockets one on each side and one is clear, perfect for the Medical Information Card, you fill out.
The khaki color with black trim and burgundy vinyl is very attractive. Yet, it is not bulky like many other wallets making this wallet very comfortable.
Size, 4.5"H x 3 1/4"W closed, 4.5"H x 6.5"W open.
If for some reason you don't want to use the PayPal secure online payment process, please click here.

Shipping outside the United States and Canada require different shipping and handling charges, Please see Medical Alert Wallets policy and terms page for international shipping charges.

You have a better chance of correct medical aid with the help of the Medical symbol and the health information you write on the Medical Information Card

If you have any allergies, medical conditions and take medicines, then you need a medical symbol on you somewhere.

"Feel Safe and Secure with Medical Wallets"