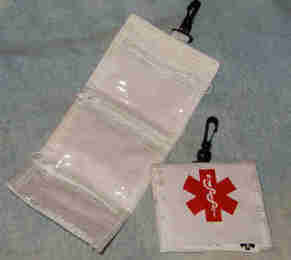 The Medical Alert Wallets, Tri-Fold Medicine wallet has a fabric pouch below the red Medical symbol on the outside and a handy clip to easily attach and take with you. Includes a Medical Information Card, for you to fill out.
Open these Tri-fold nylon Medicine Wallets to 3 clear vinyl window zippered pockets inside.
A must for the traveler or anyone who doesn't want to be bothered with pill bottles and want to do their daily routines safely.
Size, 3.5" x 3" closed, 3" x 8.5" opened.
Four Colors, black, royal blue, teal and white
Price; $8.95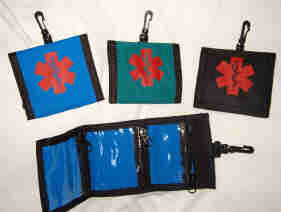 If for some reason you don't want to use the PayPal secure online payment please click here.
Shipping outside the United States and Canada require different shipping and handling charges, Please see Medical Alert Wallets policy and terms page for international shipping charges.
You can have all your important medicines with you at all times. You can be free to go about and do what you want to do, because you'll have your medicines with you.
If you or a loved on has allergies, medical conditions and take medicines then you should have a Medical symbol somewhere on you at all times and what a better way then on a Medicine wallet which includes your medicines you need daily.
"Feel Safe and Secure with Medical Wallets"