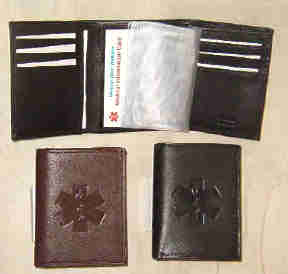 The Medical Alert Wallets, Tri-fold leather Medical wallet is hand crafted for us only. These Tri-fold Medical Wallets are made from genuine leather in black or dark brown colors. We had the Medical symbol debossed natural outside.
Inside this Tri-fold leather Medical Wallet are 6 clear card slots, 6 leather card slots, 2 pockets one under the left and right leather card slots, 1 clear window in the center, 2 full length currency holders one with a suede backing, 1 hide a key holder and a Medical Information Card, for you to fill out.
Size; 3 1/4" wide by 3 3/4" high by 3/4" thick closed, then 9" wide by 3 3/4" high opened
Price; $15.95
"Feel Safe and Secure with Medical Wallets"