Bi-fold Checkbook Wallets with a Medical symbol outside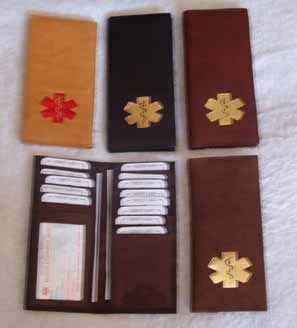 The Medical Alert Wallets, Checkbook leather bi-fold Medical Wallets is narrower then our other Deluxe Checkbook leather Medical wallets yet this checkbook wallet has more leather card slots. These bi-fold Checkbook Medical wallets are made of genuine leather in black, burgundy, dark brown and tan colors. To add safety and style to this checkbook Medical wallet we had the medical symbol debossed and Hot Stamped colored outside.

Inside these bi-fold leather checkbook Medical wallets are 14 leather card slots, 1 being a clear window and 2 full length pockets, one on each side and one of them is for the checkbook of course, that's it. Includes a Medical Information Card, for you to fill out.

Price; $14.55

Comes in Four Colors, black, burgundy, dark brown and tan

Size; 6 7/8" high by 3 1/4" wide closed, 6 7/8" high by 6 1/2" wide opened

If for some reason you don't want to use the PayPal secure online payment process, please click here.

Shipping outside the United States and Canada require different shipping and handling charges. Please see Medical Alert Wallets policy and terms page for international shipping charges.

You have a better chance of correct medical aid and early diagnose with the help of the medical symbol and your current health information you've printed on the Medical Information Card in your new Medical Wallet.

If you have any allergies, medical conditions and/or take medicines, then you should have a medical symbol on you somewhere and what a better way then on your wallet. Inside has the Medical Information Card which you have filled out with your medical information. So Feel Safe and Secure with a Medical Wallet on you!
"Fell Safe and Secure with Medical Alert Wallets"