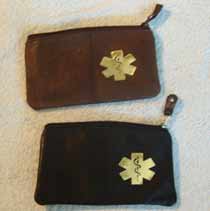 The Medical Alert Wallets genuine leather Medical pouch is great to carry about for use as a Medical wallet to carry your current medical information. This Medical Pouch is made of genuine cowhide leather in

one color, dark brown.

The medical symbol is gold color Hot Stamped on the outside.

A 5 1/2" zipper opens to the inside of this genuine leather Medical pouch. The pouch goes in 3 1/4" so that you can carry many personal items along with your Medical Information Card that you have filled out with your current medical information. Temporary out of black

Your choice of 1 color, dark brown. Overall Size; 6 1/2" long by 4" high

Price; $10.65

If for some reason you don't want to use the PayPal secure online payment process, please click here.

Shipping outside the United States and Canada require different shipping and handling charges, Please contact us for approximate charges.

You have a better chance of correct medical aid and early diagnose with the help of the Medical symbol and your current health information you've printed on the Medical Information Card in your new Medical pouch.

If you have any allergies, medical conditions and/or take medicines, then you should have a Medical symbol on you somewhere. Inside has the Medical Information Card which you have filled out with your current medical information.
"Feel Safe and Secure with Medical Wallets"